Tue 13 Oct 2015
These pictures will come as no surprise. But, silica dust exposures (and nuisance dust) is an ongoing issue. Bottom line: if you have dust, you need to add some controls.
Platform of rock crusher (photo courtesy BP)

Crusher operations (photo courtesy BP)
Grinding asphalt with a Bobcat (photo courtesy AH)Â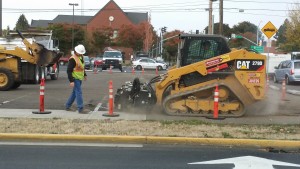 No Responses to " More silica exposures "
Sorry, comments for this entry are closed at this time.